I have been battling this install for 2 days so far and not getting anywhere. There are a ton of sql prerequisites and the install error messages are very vague, like this message below:-


Surely it can't be that hard to display the version of SQL server that is detected.
I'm currently following Harold Wong's System Center install guide along with Matthew Peter's guide and downloaded the Cumulative update 10 for SQL.
Attempting to install this patch on the server gives the error message below.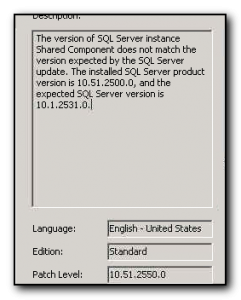 The stupid thing about this is that neither 10.51.2500.0 or 10.1.2531.0 are valid sql version numbers. Select @@version returns the accurate 10.50.2500.0 which is sql 2008 r2 sp1 but it ignores the previous cumalative update that I've already installed.
So far my hopes for System Center have been severely dashed and buried in the ground. It's a good job we don't have windows in this office or I'd be tempted to set fire to the server and chuck them out of the window.
It's been a long start to the new year.