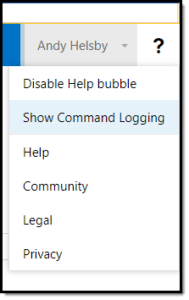 One of my annoyances with Office365 administration tasks was that I could make changes to the interface but had no idea what commands were being run behind the scenes. This made creating scripts a frustrating trial and error attempt at finding the correct verbs to run.
However, this morning I stumbled under the Help/Show Command Logging option in the admin panel. This is similar to the Show command output that was available in the Exchange 2010 admin console that I used extensively in the good old on-premise days.
I have no idea how long this has been here but it really made my day.
Now if only the rest of the Office365 admin panels had the same functionality.