In just over a month I will be heading down to Florida for Microsoft Ignite (#MSIgnite) – the conference formerly known as TechEd. This is a conference that I've always wanted to go to and this year I am finally able to get to go.
It's a large Microsoft based conference and I know I am going to learn a ton and be extremely tired at the end of the work.
As this is my first visit, I thought I would add some notes over the next few weeks on my planning for #msignite. Feel free to follow along and add any comments and advice to the posts.
Review the session plans
Last week the Myignite site had the session planner activated – there are currently 1124 sessions planned right now and it is essential that you plan the sessions that need to be attended before you go to the conference.
One of the attendees has also released a PowerBI app that gives a really nice graphical browser view to the sessions in a calendar view – This is a browser option only though and doesn't allow you to add sessions to your calendar/planner.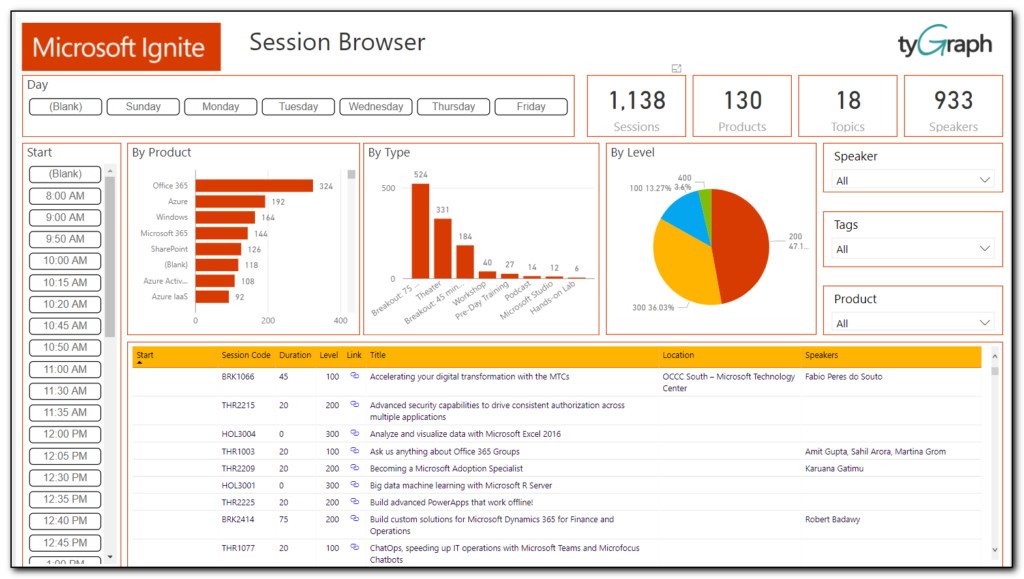 1500 sessions is pretty overwhelming so I would recommend that you select the subject matter(s) that you are particularly interested in as that will then filter down the list of relevant sessions.
Don't get too excited and expect the number to drop drastically, especially if you are involved in a lot of subjects. My list of sessions went from 1500 to 540 to pick from.
Select the Personalized sessions edit icon at Personalized session to select the topics you are interested in.

I then went through this list and selected the option to add to schedule option to select all the sessions I am interested in. Some of these sessions are ones that I would want to download and view later, some of them are ones that I want to attend. Right now I do not see a way of prioritizing these sessions as must attend, 1st choice, stream later – hopefully this is possible in the future.
Once you have selected all of the sessions you are interested in, go to my schedule under My Conference/My Schedule and then select the week view. This is where you see that you have probably double, triple or quadruple booked your sessions. This is where the priority options would come in handy so a colour coded view would allow you to see which sessions you really want to go to.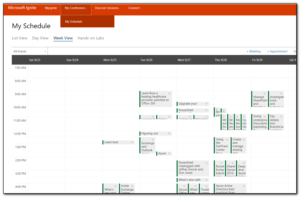 Last year there was a mobile app that would help you keep up to date with session changes (there has already been several changes published to the conference page) but I don't see it available at the moment – there are plenty of ignite 2017 apps in the Google store but none of them are the Microsoft ones (at time of writing)