I downloaded the new Windows Live Installer program yesterday which provides the ability to install Messenger, writer, mail and photo gallery from one "easy to use integrated installer". There are two downsides to this – one is that the installer is really a stub that doesn't contain the full product – this is normally fairly annoying as it means that you can't download the full install copy for offline (or multiple) installs – instead you have to be connected to the network each time the software is installed.
The other downside is that in my case, the installation of Photo Gallery (the only piece of software that I actually wanted from this bundle as I already have the rest) doesn't work. Instead I get the error message "Install failed with error code 0x80240022" – a google search yesterday only came up with details for Windows Defender which didn't help me much. Also, for those of you who are not aware, you need to hover the mouse over the error message in order for the full message to be displayed on screen in a tool tip. This means that there is no copy/paste functionality of the error message into google – instead you have to type it in manually. The link to "More about this error" only goes to a generic web page which tells you about the mouse tip.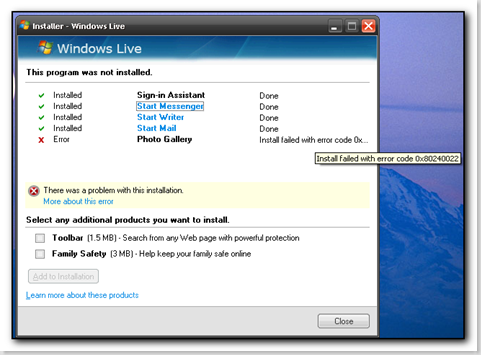 The software also keeps checking the toolbar each time it is run – even though I don't want it to be installed but oddly enough doesn't check the Family Safety checkbox. It should be consistent to check both or leave both unchecked.