I was pretty pleased to get the 10 pack of  Vorfreude® Single Rabbit Black 3m clips that help to keep cables organised as I don't know about you but as I plug in a lot of devices into the computer and charger I often have that small moment of panic as I see the cable disappearing down the back of the desk as it is released from charging the phone and evil gravity pulls it down.
Although these are called single Rabbit's, this doesn't mean you only get one Rabbit (which would be really expensive!) you actually get 10 in the pack for $10– but each one will only hold 1 cable. Vorfreude does have different rabbits that can hold up to 3 cables and also in different colours to match your decor. These particular clips came with "rabbit ears" which don't seem to serve much of a purpose apart from making it slightly easier to guide the cables into the clips.
The clips are pretty small and suitable for holding usb cables and such, but a power supply cable for a monitor or desktop are too big to fit in the hole of the clip which does reduce their usefulness a bit (see picture on the right for a monitor power cable on top of the clip.)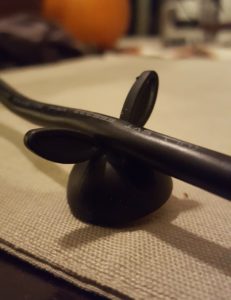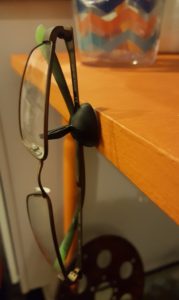 When working on a lot of computer parts it is handy to keep all the power cords for the power supply and monitors at the top of the desk ready for use but these clips would be too small for that. They are also too small to hold pens, but they do hold glasses firmly on the side of the desk (left).
The devices are stuck to your desk or other flat surface with 3m sticky pads – strong enough to stick firmly and not get knocked around easily, but they are also not a permanent fix so they are possible to remove without damaging the surface which is great if you haven't quite decided where you want to put them.
Note that although I did receive this item at a discount, I would buy these again, but probably opt for the larger, dual models so I could keep 2 power cables safe on the top of my desk. However at the full Amazon price of $20 they would be overpriced – at $10 it's not bad value. The clips seem to do the purpose and are described as small but they should really be a bit bigger for practical purposes – I'd give them 4/5 stars.
#Vorfreude