During the past week my Firefox (v16.0) Autocomplete drop down box has had missing text appear when I start typing in the address bar as seen in the screenshot below.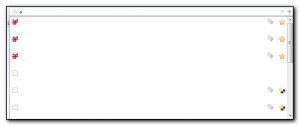 Initially I thought it was Firefox using up too much memory, but the problem occurred on all of my machines even after a recent reboot so some troubleshooting was required.
After restarting Firefox in safe mode (Click the firefox button, choose Help, Restart with add-ons disabled) I confirmed it was a problem with one of my extensions. It took several minutes to disable half the addons and see if the problem continued and then repeat the process until I could work out the offending solution.
It turns out it was the Delicious addon (v3.2.1). Disabling this I have a drop down box with url's that I can see. The proper behaviour is shown below. The A's are greyed out as that is the character I typed to start the autocomplete sequence off.



With only this extension enabled I get the problem so it's not a combination of extensions having problems. I have reported this extension as incompatible.