I always knew you had 21 days to finish a migration for an SBS installation, but I always thought the countdown was triggered when you ran dcpromo on the second server, breaking the original license agreement by having two SBS servers on the network that both want to have all the roles. (On a side note it is interesting that Microsoft provide a tool to get around Windows licensing but if you attempt to run other third party applications to do the same thing it gets flagged as a virus or you fall foul of Windows Genuine Advantage)…
Apparently, running the initial SBS pre migration assistant starts the 21 day timer even if you don't continue with the rest of the installation. Attempting to install SBS after 21 days will provide an error message stating "Source Server does not meet minimum requirements for migration" as per the screenshot below.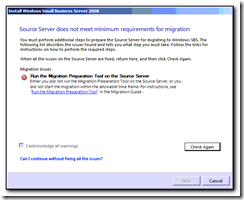 If this screen appears, pressing Shift F10 will open a command prompt, at which point the sbssetup log file can be read with
notepad "C:\Program Files\Windows Small Business Server\Logs\SBSSetup.log"
Towards the end of the log file will be the reason the migration stopped. In this case it was to do with the HKLM\ Software\ Microsoft\ SmallBusinessServer\ Migration\ MigrationReady containing an old date and LastCheckTime (value of 1) being set to a long time ago.
I'm not sure whether hacking these values out would allow you to continue on with the install but I'm going to rerun the migration wizard again. Unfortunately this requires another (pointless) reboot of the source server – something I am trying to avoid when setting this up in a parallel installation.